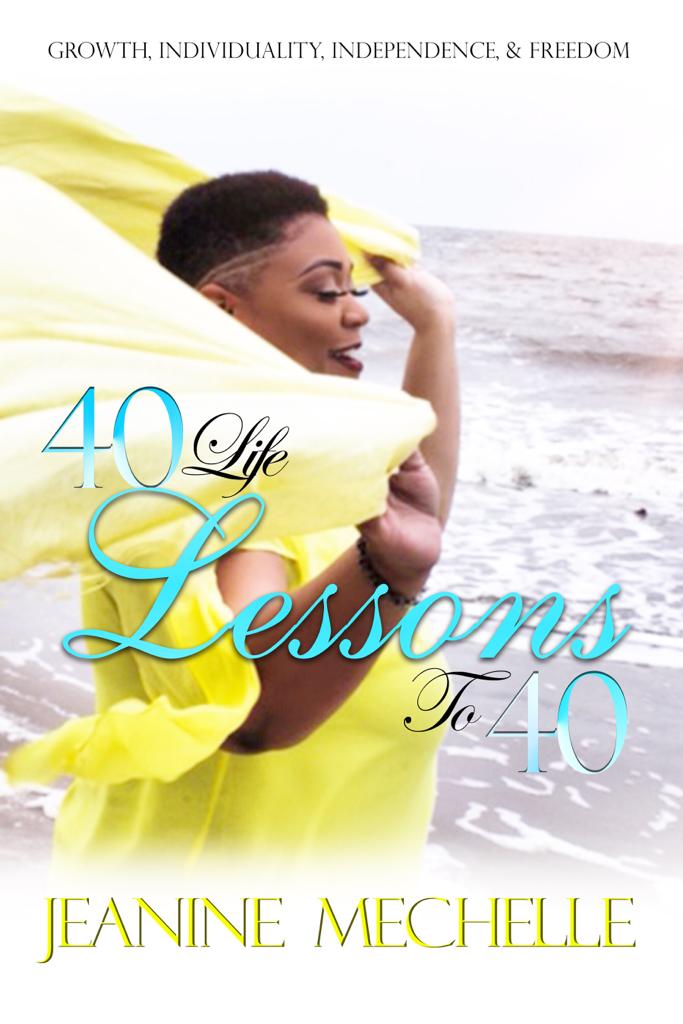 What are people saying about 40 Life Lessons to 40?
Fire!
That book is fire! I'm going to read it again and write a journal entry for each one. Lessons 4, 8, 12, 21, 25 and 32 all hit me hard. You should do a book club with it!
Schantel M.
A Blessing
This book was absolutely phenomenal. I can truly say this book was a blessing to me and my personal life journeys. It doesn't matter how old you are or where you are at this point in your life, this book has key points everyone can relate to in their life. It's definitely a page turner that will have you anticipating what's in the next chapter.
Dawnesha Thomas
A Must Read!!!
I would definitely recommend reading 40 Life Lessons to 40. I truly enjoyed reading this book. I must say lesson 6, 7, 23 , 26 and 28 really spoke to me. Jeanine gives us endearing, insightful and honest lessons.
Shalonda D.
Well done Jeanine!
I had the pleasure of meeting Jeanine at a Writers Retreat, and I knew that 40 Life Lessons to 40 would be coming home with me. This guide is packed with lessons that hit home. My fave? #28. Well done Jeanine!
Faye Thompson
A timely read!
No matter who you are or what journey you are on, 40 Life Lessons to 40, is that timely read that will keep you focused on what is most important! Each lesson will draw you back to the one central point which is taking care of you! The lessons in this book will have you living your best life in no time!
Iris Harris
Eye opener!
This Book was absolutely phenomenal. Hurt people hurt people stuck with me! After reading this lesson, i realized alot of times i've wondered, 'why the heck does she/he continue to accuse or assume i did this or that?' After reading this point, my light bulb came on again, it has nothing to do with me! His/her actions are because THEY suffering past hurt on their end. 40 life lessons was a page turner and allowed me to realize 'protecting my space' (lesson 30) is my number 1 concern!
Ceylone' Lively
bmntf6
Hello World! https://apel.top/go/gu4winrshe5dgoju?hs=72ed6d8689ec350f2a14dfbaa97cc2ae&
hyvp6f
Dont click me: https://racetrack.top/go/hezwgobsmq5dinbw?hs=72ed6d8689ec350f2a14dfbaa97cc2ae&
What did you think of 40 Life Lessons to 40?
THE PERFECT GIFT
This is the perfect gift to give your friends or family. Order an additional book or journal today!